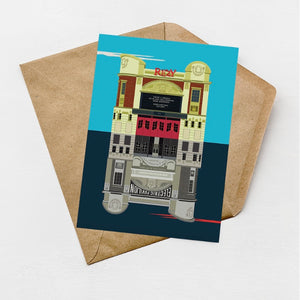 Ritzy Brixton on a reflection of it's past - the Electric Pavilion. An upside down greetings card.

Stepping out of the busy Brixton station, walking down to the expansive Windrush Square, the Ritzy captivates you with it's characteristic signboard and brilliant old architecture. I moved to Brixton last month, and I'm sure I'm going to be coming here quite often over the next few years!

The Ritzy cinema has stood on the corner of Coldharbour Lane in Brixton for nearly 100 years now. It has outlived competition, survived bombing, and prevailed through the increasing popularity of television.

Opening on 24th March 1911 as the Electric Pavilion, it was designed by architects E.C Homer & Lucas. The cinema has been through a lot of tough times but after restoration of the exterior in 1994 and a further four screens with bar and cafe being built alongside (on the site of the WWII bombed Brixton Theatre). Its fortunes have seen a total reverse from the 1970's when it was nearly demolished.
I wanted to illustrate the present day Ritzy, but also not forgetting the past, the glorious old facade of the Electric Pavilion.