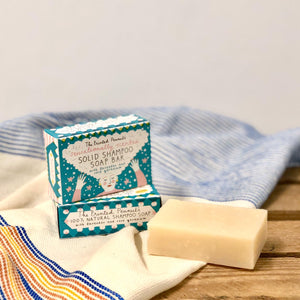 Handmade, poured and cut by hand, a beautifully scented solid shampoo bar  equivalent to the contents of 3 plastic shampoo bottles. 
Each bar is stamped with a lovely smiling face. Eco, ethical and happy!
Rub between your hands to get a rich lather, then apply that to your head, don't rub it directly onto your hair!
Handmade in Yorkshire

100% natural oils of lavender and rose geranium

Biodegradable soap with zero by-products
No SLS, parabens or palm oil
Min 95g, 8cm x 5.5cm x 2.5cm.