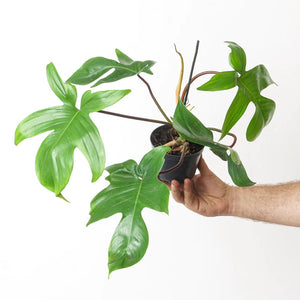 About
Philodendron Florida Green is a very good looking and majestic plant, with shiny dark green leaves, each with multiple lobes.
A low maintenance choice for homes and offices, that will help purify the air by removing airborne toxins.
Care
Light: Best in moderate to bright, indirect light. Avoid direct sunlight as this may cause the leaves to fade.
Water: Water well then allow the top half of the soil to dry out before re-watering. Will tolerate some degree of drought better than having its roots too wet.
Toxicity
Please note that philodendron are poisonous to both humans and pets. Keep plants away from children and pets and take care when handling.