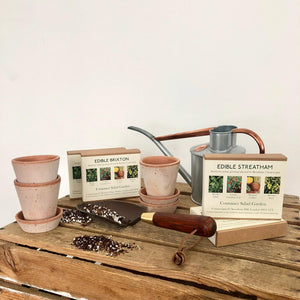 A really great collection of colourful vegetables that can be grown in containers, so you don't need so much space. Chosen by Cornercopia and grown by Thomas Etty, the specialist in heritage seeds. The box contains one packet each of:

Salad Rocket - A very healthy and tasty salad ingredient even more popular in Italy and Southern France, where it has been grown and eaten for centuries. Rocket adds a peppery note to salads and is high in vitamins A, C and E along with vitamins, and minerals benefit health immensely. It's quick to grow and you can keep picking the leaves to promote regrowth until they start to flower.

Golden Beetroot - a sweet golden yellow beet that is perfect for salads as it doesn't bleed like purple varieties. A heritage variety that dates back to the 1820s or before.

Tumbling Tomato - a fantastic sweet cherry tomato that will give you an abundance of tomatoes early and throughout the summer.  Perfectly sized for snacking and salads. It is a bush variety that cascades, making it ideal for hanging baskets and container gardens. 

Mesculun Salad Mix The French approach to salad greens--"mesclun" means "mixture." Early sweet lettuces and tangy, tender greens are pre-mixed to grow together for easy cutting. They're as pretty in the garden as they are in the bowl. Harvest most mixes in 30 days.
Each packet gives information about the seed variety, it's origins and instructions for growing.