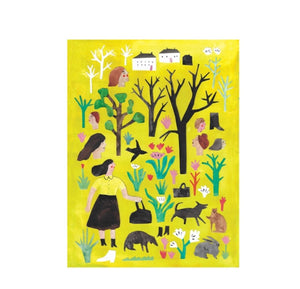 A bright and cheerful collage of woods and woodland animals
When her baby was a newborn and napped a lot, Louise Lockheart made several collages from paper cut outs and watercolour paint. Taken from scans of original collages, the colours and textures are faithfully and carefully reproduced. 
-W30cm x H40cm
-High quality archival giclée print on Fine Art Superior Textured Cotton Paper 320 g/m². 
-Signed by Louise Lockhart.
-Comes unframed and sent flat with cardboard backer.