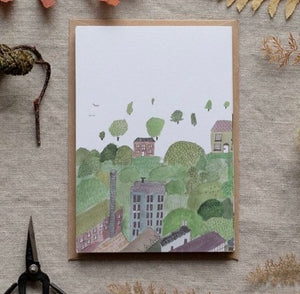 Inspired by Laura's view over the Hebden Valley from her kitchen window.
This concertina card folds out to offer something a bit "out of the ordinary"!
This beautiful card is for many occasions, the wintery scene perfect for Christmas, or just for someone who loves the outdoors, and can also look lovely just sitting on the mantelpiece as an unusual art print.
-Blank inside
-Printed on Buckram embossed 350gsm card
-Comes with a 100% recycled fleck kraft envelope
About Dear Prudence
Dear Prudence takes it's name from a favourite Beatles song of Laura, an artist living and working in Yorkshire. The world of Dear Prudence is deeply entwined with nature and folklore - animals, each their own character, plants, trees, birds, the trappings and comforts of home and story telling.