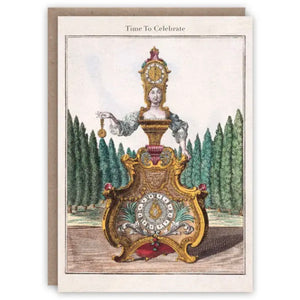 Adapted from 'L'Horlogère, the female clock- and watchmaker with clock costume and apparatus.' Coloured engraving by Martin Engelbrecht (1684–1756). Wellcome Collection.
Printed with vegetable-based inks on a carbon neutral press using responsibly sourced, acid free Italian paper.
170mm x 120mm.
Blank inside.
Individually wrapped in a compostable bag, with a 120gsm recycled kraft envelope.