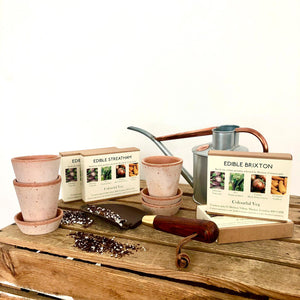 A really great collection of colourful vegetables that can be grown in containers, so you don't need so much space. Chosen by Cornercopia and grown by Thomas Etty, the specialist in heritage seeds. The box contains one packet each of:

Red Russian Kale
This delicious grey-green kale is pretty enough to plant among the flowers. The stems are purplish and the leaves are shaped like big oak leaves and colored a velvety gray green. The big leaves are very tender and delicious with a mild nutty flavour. You can add it to salads, smoothies, soups, or stir-fry to boost the nutritional content of your meal. Red Russian Kale packs a powerful punch of protein and antioxidants. Sautee mature leaves, or use the new sprouts raw in salads.

Paris Carrot
Nineteenth-century French variety, highly sought after by restaurants. These small, deliciously tender orange carrots are nearly spherical. They make a tasty, nutritious addition to lunchboxes and stir frys. Easier to grow than many carrots - compact and ideal for growing in containers and window boxes.

Oriental Mix Leaves
Perfect for stir fries, containing Mibuna and Mizina leaves, peppery green and red mustard leaves, Pak Choi and Tatsoi.

Spring Onion Spring onions are one of the easiest vegetables you can grow because they yield a lot and don't take up a long of space. Perfect in stir frys or in salads,

Each packet gives information about the seed variety, it's origins and instructions for growing.