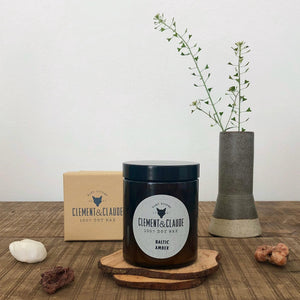 A luxurious, woody sweet fragrance where sesame and hints of citrus come through. Baltic Amber is warm and aromatic, softened by smooth amber, coconut and Madagascar vanilla pods.
Burn Time: up to 35hrs
Instructions:
Trim wick to 5mm before every use, and allow burn pool to reach full width of tin before extinguishing.
100% soy wax candles, lovingly hand-poured in Little Pengelly, west Cornwall.
Soy wax is made from pressed soybean oils. The wax is renewable, biodegradable and sustainable.