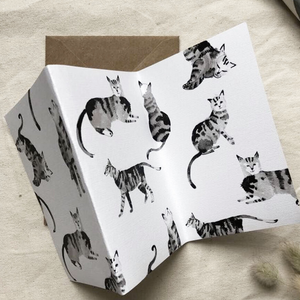 Edgar and Mabel are just about to face an enormous adventure!
This concertina card folds out to offer something a bit "out of the ordinary"!
-Printed on Buckram embossed 350gsm card
-Blank inside
-Comes with a 100% recycled fleck kraft envelope
About Dear Prudence
Dear Prudence takes it's name from a favourite Beatles song of Laura, an artist living and working in Yorkshire. The world of Dear Prudence is deeply entwined with nature and folklore - animals, each their own character, plants, trees, birds, the trappings and comforts of home and story telling.