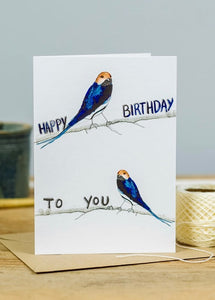 Two little bluebirds sitting in a tree, wishing you a Happy Birthday!
-A6 Blank card
-Printed on beautiful soft white card from sustainable forests in the Lake District.-The -Brown Kraft envelopes are 100% recycled.
About Dear Prudence
Dear Prudence takes it's name from a favourite Beatles song of Laura, an artist living and working in Yorkshire. The world of Dear Prudence is deeply entwined with nature and folklore - animals, each their own character, plants, trees, birds, the trappings and comforts of home and story telling.